The coal industry as an employer
The coal mining industry is an important employer in its areas of operation, largely around Emalahleni coalfields in Mpumalanga province and increasingly on the Waterberg coalfields in Limpopo.
Employment is created through direct employment by mining companies and indirectly through contractors, and suppliers of goods and services. It is estimated that for every direct job created in the mining industry, a further two to three jobs are created down and up-stream.
In 2018, the mining industry as a whole employed almost 453,543 people. Of these, the coal industry accounted for 86,919 jobs – around 19%. In total, employees in the coal sector earned R24.7 billion.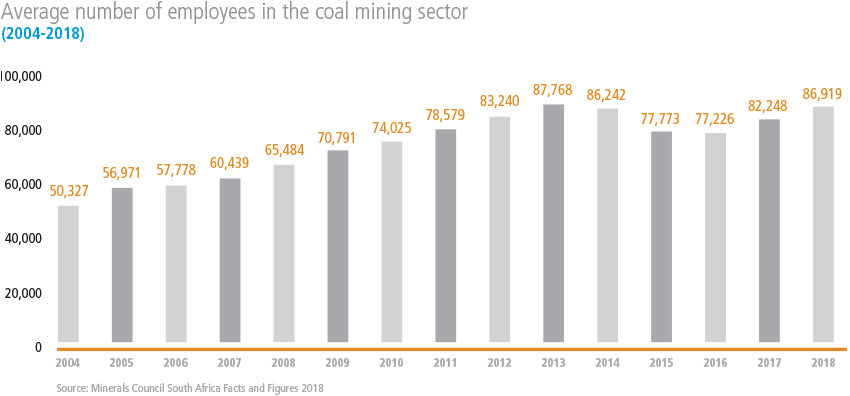 Source: Mineral Council South Africa Facts and Figures 2018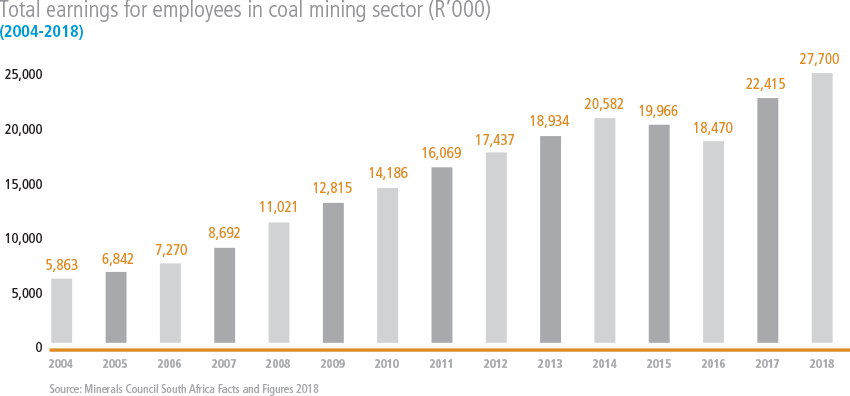 Source: Mineral Council South Africa Facts and Figures 2018

Employment in the coal sector means more than just a job, but rather a career with opportunities for development. In addition to basic wages, employees are eligible for benefits, such as healthcare, accommodation, training and development, among others.
Skills development and training
Mechanisation is far-advanced in the coal sector, both in the large scale surface and underground coal mines, which tend to be less labour-intensive than deep level gold and platinum operations. As a result, coal sector employees are more highly skilled than in other mining sectors, and consequently earn more.
On-the-job training is an important component of companies' skills development initiatives. In many cases these courses are also provided within the employees' communities, and companies provide learnerships in a specific field of relevant, occupation-related work. On completion, learners graduate with a NQF- and MQA-registered qualification. Learnerships are managed by Sector Education and Training Authorities (SETAs).
Mpumalanga is a traditional coal mining area, with a large community of inter-generational coal employees and entrenched suppliers. In the Waterberg region of Limpopo, coal companies are working with the Limpopo government to develop programmes that will enable entrepreneurs in the region to access opportunities in mining. Coal companies are also collaborating with the Limpopo government to strengthen technical colleges to ensure that locals can benefit from job creation.
Promoting diversity
Historically, many of South Africa's racially diverse communities were excluded from opportunities for advancement in the mining industry; this was exacerbated by inequitable wage structures and gender discrimination. The coal industry is a keen participant in correcting the wrongs of its past, working towards the inclusion of all South Africans, irrespective of origin, race and gender.
Amongst others, the imperatives of the Mining Charter promote theincremental transformation of HDSAs in management positions, and the inclusion of women in mining activities.
Housing and living conditions
The South African coal industry is committed to continuously improving the living standards of its employees. While, historically, the coal mining industry drew large numbers of employees from neighbouring countries and rural areas in South Africa, this pattern of migration has changed significantly in recent years. Companies in this sector draw their employees from all over Southern Africa, but increasingly employees and their families live and work closer to mining regions.
A focus on affordable housing for employees and their families has resulted in the development of a number of successful housing projects including the R1.35 billion Spring Valley Housing Project in Mpumalanga, with its innovative funding model and which provides housing to 2 951 families, who can secure financing through a bank. In terms of the project, business invests in a portion of the bulk services for the whole development and, in return, a maximum of 272 houses (as building packages) are available at a significant discount to coal business employees who can then secure a home loan through the banks. The Spring Valley housing development in Mpumalanga provides residential units, schools, churches, crèches and retail developments.