Coal mining and transformation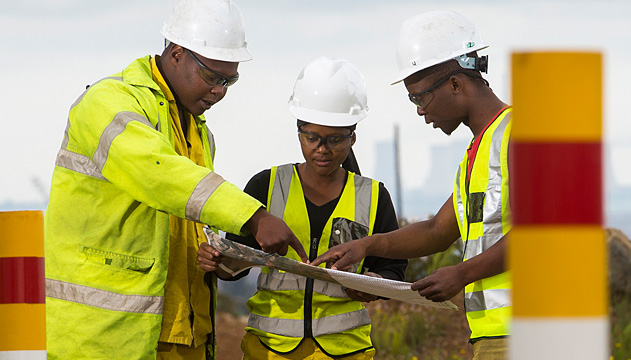 Section 100 of the MPRDA requires the Minister of Mineral Resources to set socio-economic targets through the Mining Charter - which has become synonymous with transformation in South Africa. Transformation is a necessary social imperative to address the social and economic inequalities of the past.
Reporting and mining charter compliance
The majority of coal mining companies complied with the reporting requirements as per Section 28 (2) of the MPRDA in terms of reporting responsibility of the mining rights holder.
Women in mining
The coal industry has been successful in increasing the participation of women in mining. The coal mining industry has dedicated time and other resources to ensure that women are attracted to the coal mining industry and that they are retained. As with historically disadvantaged South Africans (HDSAs), coal mining companies have made great effort to implement career development programmes to develop and fast track women who show promise. Women face unique safety and health and risks in core mining positions and special provision has been made to ensure that they have a positive work place experience.
Changing the face of mining
Ownership
Certain coal mining companies have employed ownership opportunities to ensure a more equitable distribution of profits. Ownership is implemented through share schemes, employee/community trusts and ESOPs and have generated positive outcomes.
Education and career development
Many HDSAs were deprived of the opportunity to complete or further their education. By offering career development and educational support programmes employees are able to further their careers at no cost, increase their earnings and quality of life in the future. Bursaries, learnerships and apprenticeships are offered to address skills shortages and empower suitable candidates within the company.
Economic development programmes
By working with local, HDSA and BEE vendors the coal mining industry is able to strengthen existing markets and businesses by awarding long-term, lucrative contracts. Coal mining companies spend considerable amounts on local business and also assist various SMMEs through enterprise development initiatives. By outsourcing services such as catering, employee transport and construction, the coal mining industry provides indirect job opportunities.
Housing and accommodation
Overcrowded single-sex hostels which were a cornerstone of the apartheid mining era have been eradicated. Employees' rights to live in decent accommodation remains a priority for the coal mining industry. Understanding that housing preferences are unique to each employee and their dependents coal mining companies make a variety of housing options available to it employees. Through home ownership programmes many employees are able to purchase homes and be a part of communities that will exist long after mines close. For employees that do not foresee their future in the mining area, companies make rental accommodation available. Further research is being conducted into adequately meeting employees' housing needs.